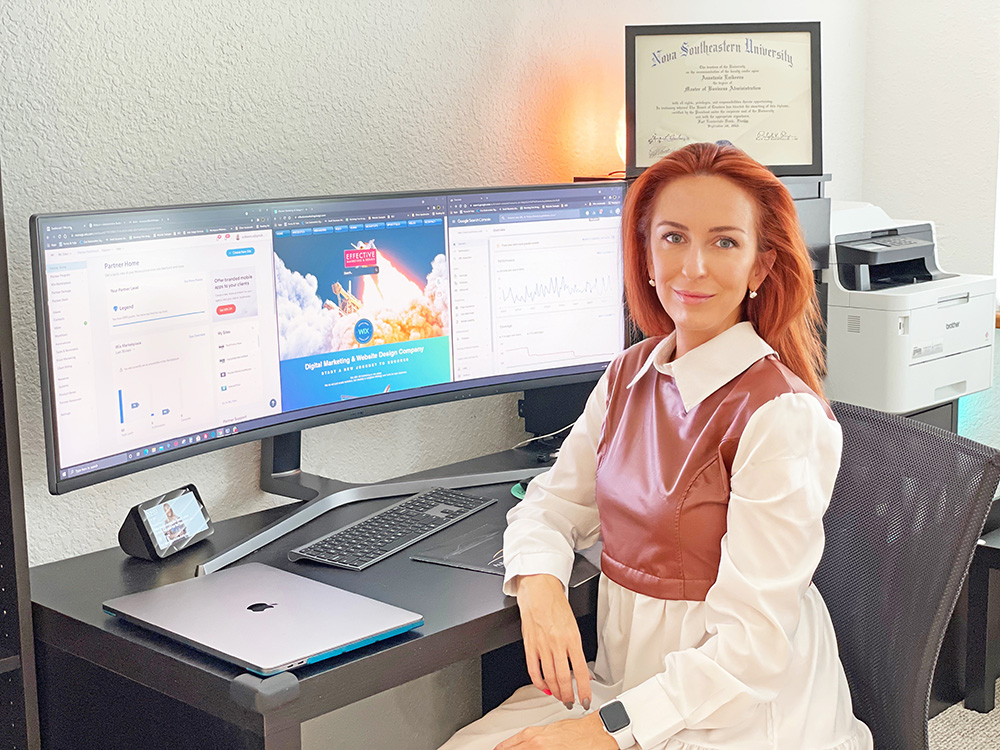 How to design a website on Wix in 2022
The technology is more and more advanced and is evolving rapidly. This ultimately allowed us to improve our productivity levels and do more, no matter how complex our tasks. Learning to design web sites is considered one of those tasks.
In order to understand how to design a website on Wix in 2022, we asked Anastasia Enikeeva, who is a professional and an expert Wix Website Designer to Effective Marketing and Design.
Can someone without any coding or design background design a website on Wix?
It is possible for anyone to design a basic and modern website and create their own online presence with the help of Wix. With the help of the remarkable features of Wix web design, an individual can build community and gain fans, promote their brand online, and generate huge income with Wix Stores.
How to start?
Before designing a website, it is essential that you are clear about where you want to reach and what you want to achieve. There are several types of websites available. But that being said, you need to go for the one that can be of use to you in achieving your goals. Here are some of the types:
A business website for the purpose of growing your business.
An online store to sell products.
A portfolio site to show your experience and previous work.
A blog for sharing information with people around the world.
Once you've decided on the type of website you need, the next thing to do is design your website. Now that is the most exciting part! When you start the process, be sure to keep the purpose of the website design in mind. You need to consider how the design will help you achieve your goals. Once you are on the right track and the website design work is in progress, you will find that the items you want to add will vary depending on what you want to achieve. For example, you are ready to sell your photos online. In this scenario, you will display your work in portfolio format and then integrate an online store where you will sell the prints. Plus, if your goal is to land a job, a simple, professional-looking resume website may suit your needs better.
Do you recommend using templates?
It is undeniable that Wix Templates offer various stunning pre-designed website layouts for its users. You will easily get the one that best suits your needs and the type of website you want. After creating a Wix account, you will get a button to "Create a new site". You can start the process by clicking on this button.
Once you click on the button, you will see a new page where you will choose the type of website you want. It will depend on your needs as to what type of website you want to go for. Then, Wix will give you two different options:
Build your website with the Wix editor. As the name suggests, you'll use the Wix Editor and start the process with a template. You can add different things using various design features and drag and drop tools.
Let the Wix ADI tool create a website for you. This option is a bit more efficient and faster because you will have your own website in minutes just by answering a few simple questions. The ADI tool will create a basic website for you, taking into account the answers you provide.
How do I choose the right model on Wix?
When choosing a model, you should consider the following key questions:
How many videos and photos do you want to include?
What type of section do you want to add to the main navigation bar?
Do you like the layout, font and color scheme? (While it is possible to modify these features, choosing a perfect template that meets your needs will prove effective in building your website). Does the layout meet your needs?
Does the style of the model represent the image you want to project?
What's important to have on your website in 2022?
When you create a website using Wix, there is a feature of Mobile Editor that automatically generates a mobile version of your site. This clearly implies that you don't need to recreate a new structure for the mobile from the start. That being said, it is still up to you to make sure your content is well optimized in order to fit perfectly with this little real estate.
Superfast load time is considered one of the most important web design standards. For many years in SEO and UX, fast load times were considered the most important factors, and today too it is one of the top priorities for sites that want to rank high and ultimately well convert.
Today, an effective and professional website design should be readily available to every individual. Website accessibility allows users to interact and experience your site in a convenient way without worrying about their abilities. This can include people with hearing loss, temporary injuries, visual impairment, and various other types of similar disabilities.
There are millions, if not billions, of people with disabilities. It is therefore essential to meet their needs as well. It also gives a caring image of your business and will show that it values ​​diversity and inclusiveness.
Accessibility and inclusiveness are not just trends, but more than that. It is the need of the hour for web design to take people with disabilities into account. A website that every type of person can interact with and navigate is essential and important for a great user experience and better customer service.
You will notice how such a type of website will help you reach a massive audience, improve your SEO, and increase conversions to a whole new level. Interestingly, all of the amazing features are readily available and accessible on Wix.
What about the web design trends in 2022?
Colorful minimalism is closely associated with one of the most notable web design trends of 2022 – color. You can help your brand gain the edge over other brands by using saturated, vivid and bold colors.
In 2022, most websites are expected to be attractive, bright and colorful with the help of videos and animations, which will ultimately improve the user experience. Plus, with a thumb-friendly design, our thumbs should finally take a break!
Without a doubt, updating your Wix website template will improve your brand and definitely increase your income. If you're looking for a user-friendly, professional, and modern website on Wix, contact a Wix Website Designer today! To request a professional consultation from Wix experts, visit EffectiveMarketingDesign.com.