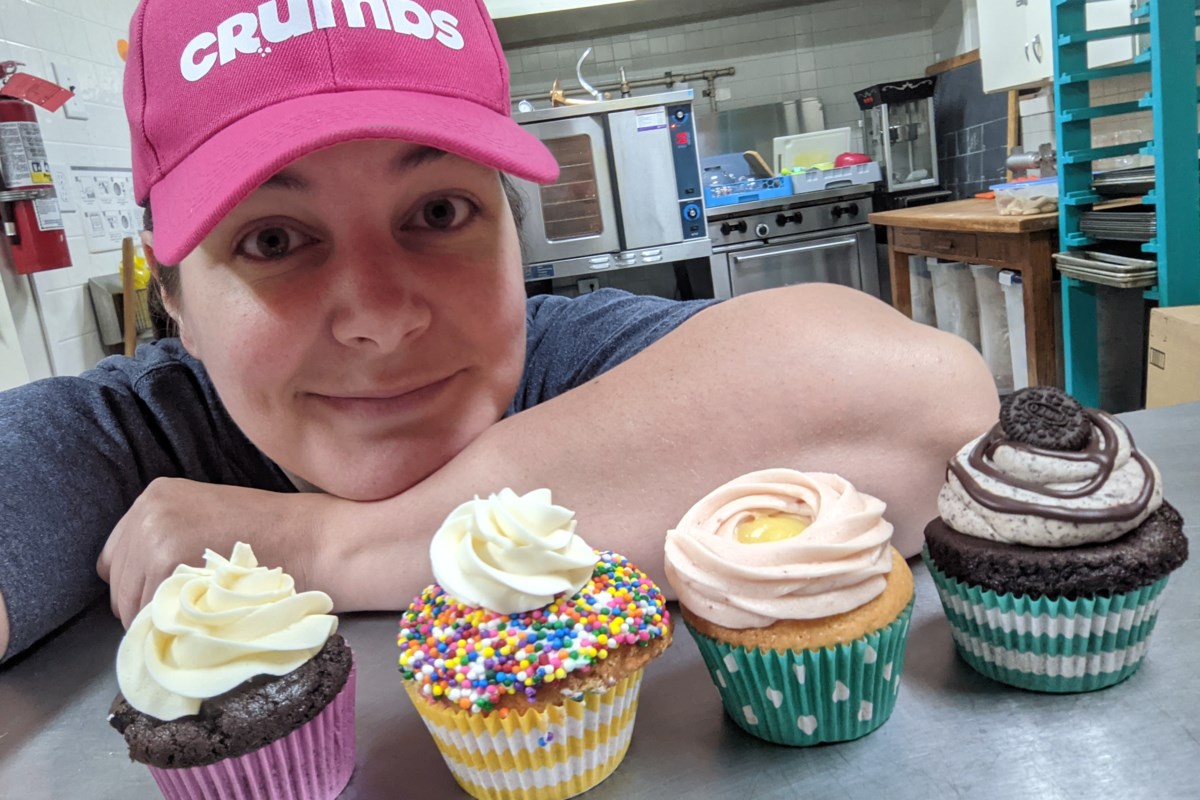 Let's Eat: from graphic design to crumbs
Mary Davis has found her happiness making desserts that make people smile.
Mary Davis started her own bakery, Crumbs, when a career as a graphic designer, a passion for the theater and delicious baking came together by chance.
Davis had worked as a graphic designer at a local company for 10 years and "was fed up with sitting at a desk all the time," she says. She used to bring treats to her colleagues. "They would always say to me, 'You have to start a bakery, you have to start a bakery,' but it was pretty scary; it's scary to do your own thing, "she explains. "I had no business background so I was quite intimidated by it all. "
Eventually, she decided baking was what she wanted to do, and starting her own business wasn't as daunting as she thought. "Fortunately, as a designer, I was able to do all of my own startup design work – my logo, social media, my website," she says. She realized that she also learned a lot about marketing while working as a graphic designer, so managing her social media to promote Crumbs wasn't too difficult.
Davis, an improv artist and Cambrian Players board member, knew the theater troupe's new building had an unused commercial kitchen in the basement, so she asked if she could rent the space. "And it all fell into place," she says. "It's really a happy coincidence! "
Crumbs has a full menu of cakes, cupcakes, cookies, brownies, baking sheets, and other goodies, but Davis says she usually receives orders for cupcakes. She makes 8 inch party cakes for birthdays, small weddings, and parties, but does not generally make elaborate wedding cakes. That being said, she would love to make a cupcake bar for weddings, she says.
His most popular cupcakes are Allan, a chocolate cupcake filled with raspberry and vanilla buttercream, or "anything chocolate," Davis says. Her brownies are "one of my starring items that made my coworkers say I had to open a bakery," she says.
"They are super fuzzy; one of the most chocolatey things you'll ever put in your mouth, "she explains. "If you take a bit too big, you feel a little sick afterwards," she laughs. "In the best possible way!
In addition to taking custom orders for pickup at Cambrian Players on Spring Street, Davis participates in select events and markets such as Craft Revival and the Local Artisans Market at Creekside Nursery and Garden Center on December 4.
You can also find Crumbs cupcakes at Westfort Foods every Thursday. "I just started [selling there] a few weeks ago, and every week, orders have increased, "says Davis. The Groggy Toad Coffee House offers its cookies and occasionally the Windy Shores Cafe offers some of its pastries as well.
"I am considering creating a subscription box," she says of the future. "It's in the very early stages of planning. "
Davis launched Crumbs in February 2020, just weeks before the pandemic changed everyone's lives. Fortunately, she had an idea that resonated with customers: cookies.
"They really got me through the pandemic last year," she says. "I started selling dozens of assorted [of cookies] and deliver them all over town. It was a way for people to reach out and tell people that their friends were missed. It warmed my heart to send so many cookies to town.