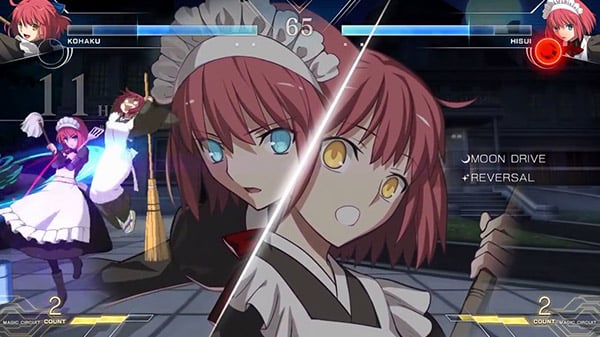 melty Blood: Lumina Type – Hisui game against Kohaku # 2
Project Lumina has released the second gameplay video for Melty Blood: Lumina Type featuring Hisui vs. Kohaku.
If you missed it, watch the first video here.
Here's a look at the game, via Project Lumina:
On

melty Blood is reborn. This is the latest addition to the 2D fighting game series based on Type-Moon's visual romance, Tsukihime. The curtain rises once again on dramatic battles played out with characters familiar from Tsukihime: a piece of blue glass moon.

Main characteristics

All new stories, visuals and characters

Discover a brand new Melting blood world of screenwriter Kinoko Nasu, based on the events of Tsukihime: a piece of blue glass moon. Unique story events for each character give each game its own feel, adding to the overall experience.
The visuals have been updated with HD graphics and include animation footage by A-1 Pictures for special attacks.
The dialogue is fully voiced and will change depending on which characters are brought into battle, giving better insight into the characters' interpersonal relationships.

Iconic combat systems

Use Melty Blood's signature mechanics such as aerial combos, shields, magic circuits, arc readers, and final arcs, as well as some powerful new abilities under the lunar skill system. On top of that, a whole new simple control system has been put in place to make intense battles a bit more manageable, while maintaining a balance that will allow seasoned veterans and new players alike to fully enjoy the world of Melty Blood.

Rich customization and gallery functionality

Customize your title, profile icon, and character outfits for battle. They can even be used in online matches!
Collect visuals, opening cutscenes, music tracks, vocals, pixel art and more from the gallery. You can even take a look at guest illustrations created by artists linked to Type-Moon titles.
Melty Blood: Lumina Type is slated for PlayStation 4, Xbox One, Switch, and PC via Steam on September 30 worldwide.
Watch the video below.
Feedback policy
Comments are welcome and encouraged on Gematsu. However, we ask that you follow a simple set of guidelines:
Read the entire article before commenting.
Stay on topic.
No comments behind the wheelincluding trolling, baiting or posting poop.
Know when not to comment. If you don't care about a topic, you don't need to comment.
No offensive comments. This includes abusive, threatening, pornographic, deceptive or defamatory content / language, as well as general harassment and individual attacks.
No begging for port.
No console wars.
Use spoiler tags when posting spoiler or NSFW content (non-nude only). For example: Woe to Leomon. Indicate the subject of the content outside of the spoiler tags.
Be respectful to other commentators. You don't have to agree with each other, but debate politely. If you find that a reviewer isn't following this simple etiquette, don't continue the conversation, just report it.
Gematsu reserves the right to modify or remove any comments without notice. This comments policy is subject to change at any time.