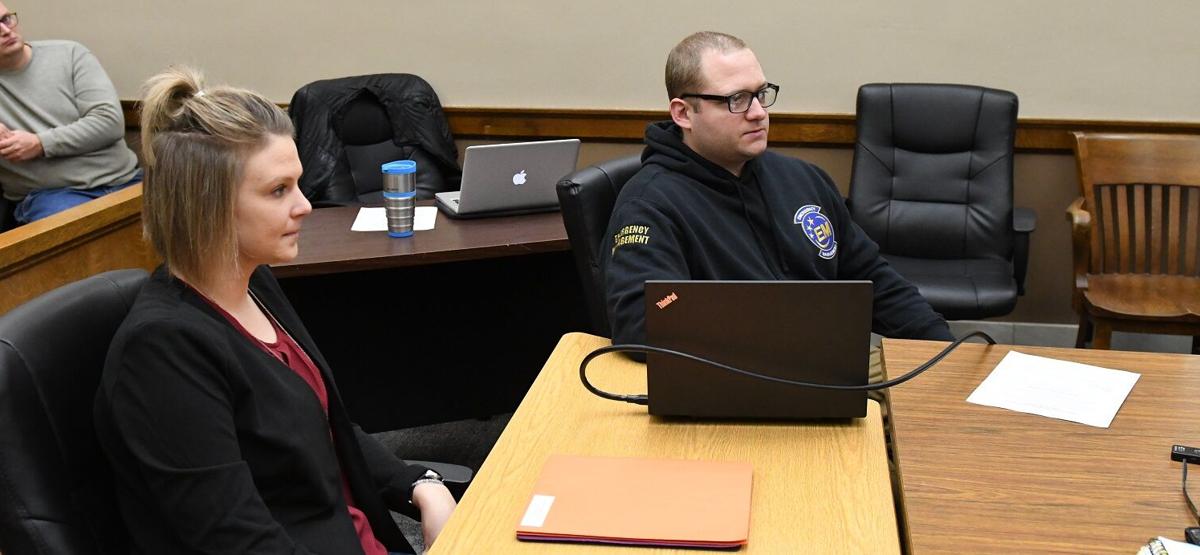 Mental Health Group Speaks to O'Brien County | New
PRIMGHAR — The O'Brien County Suicide Prevention Coalition is enlisting the help of artistic high school students to create a logo for the newly formed organization.
Abby Wallin, the county's mental health court attorney, founded the coalition earlier this summer along with other county officials and mental health experts.
She and emergency management agency coordinator Jared Johnson spoke to the supervisory board on Tuesday, November 9, about the group's recent activities as well as the logo design competition.
The coalition distributed information about the competition to high school art teachers in the county last month. It will accept registrations until December 31st. The organization will use the winning logo in its marketing materials in the future.
"We want it to be original," Wallin said. "There are basic things we want like 'O'Brien County Suicide Prevention Coalition', the purple and teal colors, the ribbon. But we want the kids to get creative with this and we want them to have some buy-in. This is our hope.
Logo entries should also include a short slogan or phrase related to suicide prevention.
Wallin and Johnson also requested an allocation of $ 40,000 for the organization from the county's share of the American Rescue Plan Act funds, which would help fund future activities of the coalition.
However, Johnson said that amount would be an estimated figure since the coalition is still considering some projects that could cause its budget to fluctuate.
One goal for the organization would be to run programs in county schools to educate students and staff about mental health issues and make them aware of available resources.
One potential event that Wallin and Johnson talked about was inviting Ryan Nesbit, co-chair of the Iowa chapter of the American Foundation for Suicide Prevention, to lead school suicide prevention workshops for grade 7 students. in grade 12.
Wallin said the coalition and superintendents from the county's three school districts spoke with Nesbit on Zoom at a previous coalition meeting to find out more about what he is doing.
"What he presented to us was that he would do the QPR, which is Question, Persuade and Refer, which is pretty basic – kind of like CPR but for mental health and suicide prevention," Wallin said.
The workshops in each school would divide the students in Grades 7 to 12 into different groups for the sessions, and there would also be opportunities for staff and community members to get involved. Wallin said Nesbit would like to book the workshops at each of the three schools between January and May.
"Ryan is a really cool guy. He's from Jesup, and he's not taking anything away, that's for sure, "Wallin said. "He was pretty open and honest with everyone on this Zoom. "
Another goal of the coalition is to obtain a trailer featuring the numbers of the organization's suicide prevention and information hotline. It would be parked at different locations around the county for people to see and would be used to transport marketing material to and from the events.
Listener Barb Rohwer asked what size trailer the group plans to get. Johnson said a small one that would measure either 4 by 6 feet or 5 by 8 feet.
Johnson said the coalition had already distributed "gift bags" to farmers in the county through the Iowa State University Extension and Outreach Office in Primghar. The kits included snacks and brochures as well as crisis line phone numbers and the county public health office number.
"We didn't use ARPA funds for this, we just did it as an internal project between us," Johnson said.
The board will review the bailout funding request at its next meeting.
Supervisor Dan Friedrichsen said he appreciated the work done by the coalition and noted how quickly it has been able to organize and plan events in the short time since its inception.
"It's very important," he says. "If you can help one person, every penny is worth it. "