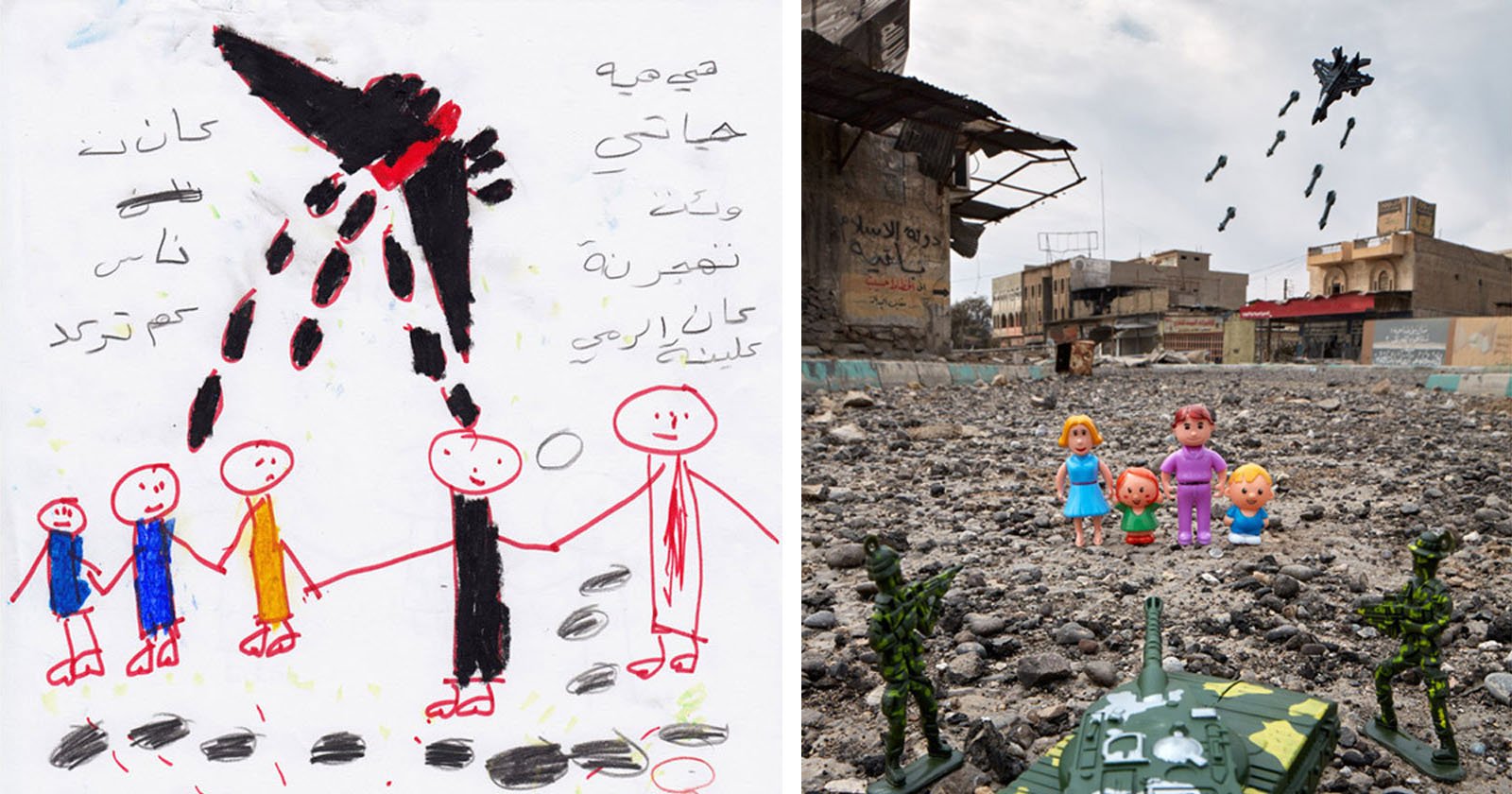 Photographer Recreates Drawings of Children in War Zones Using Toys
Photographer Brian McCarty has spent two decades shooting for some of the biggest toy and children's media companies in the world. Since 2011, however, he has worked with children who have been affected by war through a project called war toys.
Each work in the project begins with a child's drawing based on their story of a conflict. McCarty then uses toys to recreate each of these works in photo form.
"The project invokes the principles and practices of expressive art therapy to safely collect and articulate children's war stories," the photographer writes on his website. "Under the guidance of a specialist therapist and working through NGOs and UN agencies, the boys and girls become art directors for narrative photos of locally sourced toys."
Originally started as a photo series, war toys became the nucleus of a non-profit organization, also called War Toys, which McCarthy founded in 2019 in response to "seeing firsthand the severe effects of displacement and war-related trauma on these children".
"Defending children who have been affected by war remains one of War Toys' core missions," reads the non-profit organization's website. "A unique art therapy-based process allows us to work safely with potentially traumatized children, responsibly collect their first-hand accounts, and recreate their stories on the spot through an accessible and disarming play filter. ."
In addition to art therapy and fieldwork, War Toys also offers programs that provide toys and education to children around the world.
Help children in Ukraine
In response to the Russian invasion of Ukraine in February 2022, War Toys is currently fundraising for a developing program in Ukraine.
"We work with First Aid of the Soul, a grassroots organization formed by Ukrainian art therapist Nathalie Robelot," McCarty said. PetaPixel. "In a remarkably short period of time, Nathalie has built an extensive network of Ukrainian mental health professionals ready to work.
"In the short term, to increase Ukraine's mental health capacity, they will train caregivers in expressive therapy-based activities that can help alleviate trauma in war-affected children while fighting continues. When things are more stable and the children are physically safe, they will move on to treatment for PTSD and other similar war-related conditions.
"War Toys will go to work within this network of therapists to collect and articulate the testimonies of children in their care. First, though. We want to get support from these children now!"
You can find more of McCarty's work on his website and through War Toys.
---
Header image: A young Iraqi girl says her family fled Mosul as fighting raged less than a kilometer away.