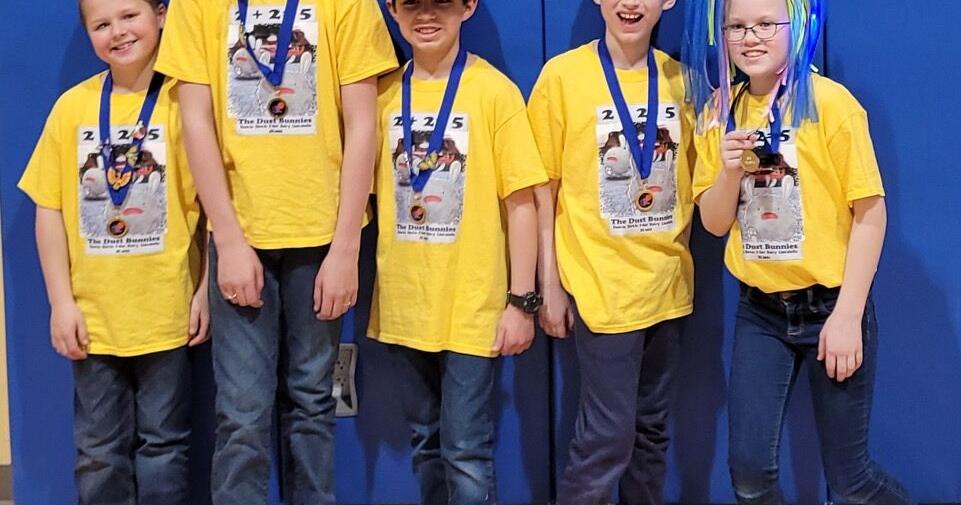 Teller County News Brief | Mail from Pikes Peak
5 Summit Elementary students headed to state competition
Summit Elementary in Woodland Park recently sponsored a team of five students who participated in the Destination Imagination program's technical challenge, "Daring Escape."
Ben Gragg (Grade 5), John Rubio (Grade 5), Rachel Gunter (Grade 5), Ben Rexford (Grade 4), and Bradley Seal (Grade 4) placed first, under the direction of the team leader and teacher devoted Donna Frick, at the South Metro Regional Contest on February 26th.
According to a Woodland Park School District press release, "Destination Imagination is a project-based, child-focused program that teaches children to be innovative problem solvers.
Through STEAM, teams of students collaborate, think outside the box, and create unique solutions to one of seven different challenges for a fun problem-solving competition. »
The team had to incorporate technical elements to overcome obstacles while adding a "daring escape".
All components were stitched together in a short 8-minute production where students create everything from story to props, the statement said.
They will participate in the state tournament on April 2.
Education Updates
Abbey Morgan, of Woodland Park (80863), a student at Baylor University's College of Arts & Sciences in Waco, Texas, was recently named to the Fall 2021 Dean's List.
The University of Wyoming announced that Meg Good, of Woodland Park, graduated with a Bachelor of Arts degree at the end of the fall 2021 semester.
Mountain artists encourage students with scholarships
Mountain Artists is seeking applications from Teller County students for the annual Student Art Show at the Woodland Park Public Library Galleries April 1-22.
Teller County students must be 18 or younger by January 1. Middle school students can earn first, second, and third place ribbons; and high school students can win ribbons as well as a cash prize of approximately $1,500 each year.
Accepted categories: oils, acrylics, watercolours, drawing, mixed media, digital design and three-dimensional art.
Applications for the show are available online at: themountainartists.org.
Artists are asked to bring the completed application along with the artwork to the library between 2:30 p.m. and 6 p.m. on March 31.
Prizes will be awarded at 2 p.m. on April 9 in the library gallery.
Winners must be present to receive monetary rewards (or have a parent or teacher present to accept).
In addition, the mountain artists award one or more scholarships each year to one or two students who will continue their higher education in the fall of 2022 with a specialization or specialization in the field of art.
For more information, contact Rita Randolph at 719-502-5085.
Free Radon Class offered by CSU Extension
CSU Extension is hosting a free radon class from 10:30 a.m. to 11:30 a.m. on Saturday, April 2, at the lower level of the Woodland Park Library, 218 E. Midland Ave., Woodland Park.
Radon is a radioactive gas that comes from the natural decay of uranium present in almost all soils. It typically travels through the ground and into your home through cracks and other holes in the foundation. Your home traps radon inside where it can build up. Any home can have a radon problem. This means new and old houses, well-sealed and drafty houses, and houses with or without basements.
Radon is a carcinogenic radioactive gas that you cannot see, smell or taste. Its presence in your home can pose a health hazard to your family. It's the leading cause of lung cancer in non-smokers in the United States and kills about 20,000 people a year.
Screening is the only way to know if you and your family are at risk. The tests are inexpensive and easy, taking only a few minutes.
The course is free and participants will receive two short-term radon kits and other materials. Please RSVP to Mark J. Platten by March 31 at [email protected]
If you cannot attend, you can receive free test kits from
The construction/planning department at 800 Research Drive, Ste. 100 wooded park
Public Health, located behind Venture Foods in Divide
The Centennial Building, 112 NA St., Cripple Creek
The CSU Extension Office located at 800 Research Dr., Ste. 224 Woodland Park
CSU Extension, US Department of Agriculture and Cooperating Colorado Counties. Extension programs are available to all without discrimination. If you require special accommodations, please contact Platten at least five working days before the event.
Rampart Library District is holding a contest to find a new logo
The Rempart Library District, with branches in Florissant and Woodland Park, is hosting a logo design contest. The most outstanding design will be honored as the Library District's new logo and will be used on its website and in advertising.
The contest is open to all ages. Submissions should be in JPG or PNG format and can be emailed to [email protected] along with contact details. The deadline for submission is May 1.
A district library committee will review the submissions and vote. The winner will be notified on June 6. Info: rampartlibrarydistrict.org/logo-design-contest-spring-2022.